Remove acne clearly without any scar
Complete Master of Acne
Five different types

of premium laser treatment
Secret Laser

Sebum secretion control & scar regeneration

Vbeam Prima

Inflammation reduction & scar prevention, (PDL)Pulsed-dye laser

CryoVIVE

Lowering skin temperature and inflammation reduction

PlaDuo

Acne improvement sebaceous glands control skin regeneration & skin treatment

Sebaceous glands destruction

Radio Frequency (RF)
Before & After
Eunjung who didn't want to look at the mirror with a lack of confidence,
achieved clean and bright skin after visiting Renewme Skin clinic.
1
It is the world vascular laser that can selectively treat angulated or gyrated dilated bloodvessels for vascular treatment. It's possible to deliver energy uniformly on the targeted lesions that is needed, and to expect the effective results from treatment. Patients can expect red acne marks and redness improvement.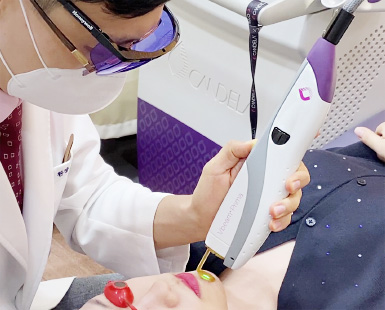 2
Secret RF is an innovative fractional radio frequency (RF) microneedling system for tissue coagulation and hemostasis designed to stimulate and remodel collagen from the inside out. Secret RF delivers precise, controlled energy at various depths to target patients' most common skin concerns on the face and body with little to no downtime. It is effective for acne, acne scar, pores, and pigmented lesions.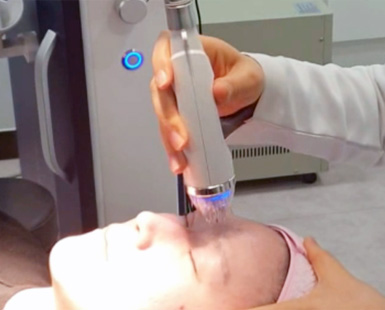 3
Plasma lightening laser is an advanced laser that uses a device to deliver natural energy in the form of plasma to rejuvenate skin by improving skin troubles, wrinkles, etc. The plasma energy generated in Nitrogen and Argon gas kills the bacteria from permeating into the skin and improve healthy skin from activating skin cell. It vitalizes skin cell and delivering energy deep into skin so that it treats acne and acne scar for healthy skin.
4
CryoVIVE is the first cryotherapy device that allows precise control of cooling temperature in treating skin conditions. It induces self-healing ability by lowering body temperature and accelerating blood circulation. It is effective for inflammation reduction.
5
Sebaceous gland destruction
This treatment inserts high-frequency needle below a dermal layer of skin with patented technology and directly delivers radiofrequency energy inside the sebaceous glands to decrease sebaceous glands. It reduces inflammation by radiofrequency ablation and treats original cause for effective acne treatment.
6
This is a newly developed treatment that improves side effect and discomfort that cause while taking acne medication. By applying photo absorber to skin and irradiating special wavelengths to skin, it destroys acne virus and reduce sebum secretion of sebaceous glands.
7
It treats acne without extraction so that it is recommended for those who cannot stand the pain easily. This peeling uses medication that maintains moisture and skin soothing. It applies to sensitive skin and improves acne and acne scars effectively.
8
GOLD PTT is a safe treatment as it does not require oral medication or applying ointment.  It uses special gold micro-particles to remove sebaceous glands selectively that is responsible for acne bacteria and breakouts. It controls acne recurrence by treating deep inside the skin.