Effective treatment by various wavelengths! Premium Laser for pigmented lesions
Laser Toning
Customized Laser treats pigmented lesions for all individuals
Ruby laser
Enlighten Pico
PicoWay
StarWalker
Excel V
HELIOS
Effect enhanced by various laser treatment
B

EFORE &

A

FTER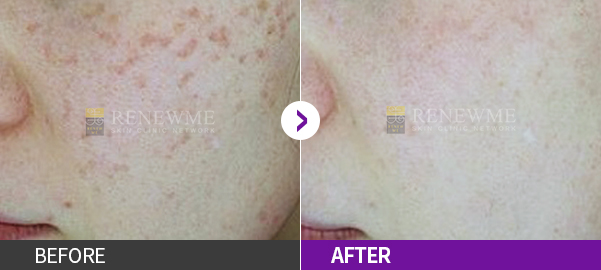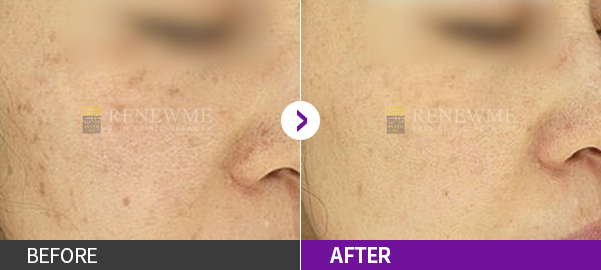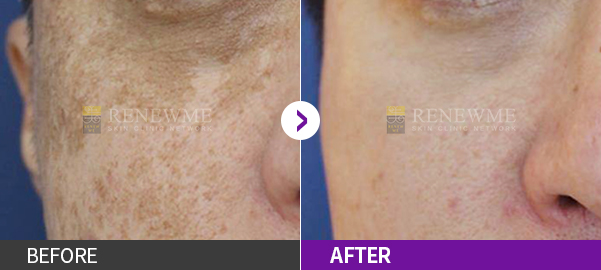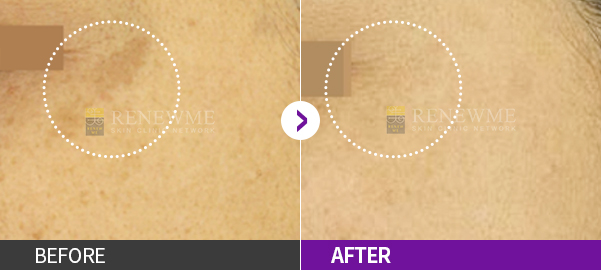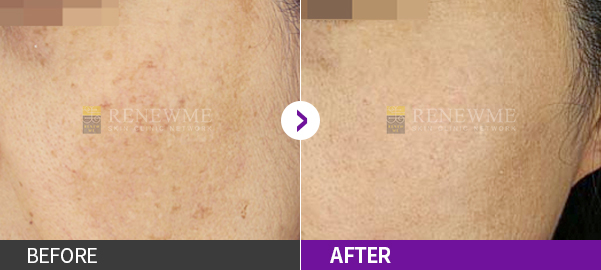 More effective treatment for pigmented lesions
with
various wavelenths
Renewme clinic provides treatment
according to skin analysis & diagnosis
by using customized wavelengths
PicoWay
Enlighten
StarWalker
HELIOS4
PicoWay
Enlighten
StarWalker
HELIOS4
2022 NEW
Picoway Laser
All PicoWay laser treatments use a picosecond laser with high power and ultra-short pulses. A picosecond is a trillionth of a second. The ultra-short pulses with the PicoWay laser are important because they lead to a "photoacoustic" effect that avoids heating the skin rather than a photothermal (or heat) approach that heats the skin and can lead to side effects, such as downtime and scarring.
The PicoWay® laser uses a high power laser beam
with ultra-short pulses to transform your skin from the inside out.
Key benefits
of Renewme Picoway
PICOWAY SPECIAL POINT
Selective Removal of Pigmentation

It removes pigmented legions selectively and pulverizes fine particles.

Personalized treatment

it uses four different wavelengths, 532nm, 730nm, 785nm, and 1064nm to provide a customized treatment with adjustable wavelengths depending on each skin conditions.

Strong power

Effective treatment with strong power in short duration of time.

Safety verified

The PicoWay laser proves a high level of safety with an FDA and a KFDA- cleared treatment so that it gives less pain and more effective result.
2021 NEW
Ruby Laser
Ruby laser delivers wavelength 694nm which is well absorbed by melanin pigment and penetrates deeper compared to existing laser in 532nm so that it can effectively treats pigmented lesions.

A significant effect of
Ruby Laser
Skin problems of spots and freckles are solved
RUBY LASER SPECIAL POINT
Low melanin absorption and deep penetration

It has taken significant advantage of Nd:YAG 1064 nm in terms of safety because of its low melanin absorption and deep penetration into the skin with safety and minimal downtime.

Applied to various pigmented lesions with High Peak Power

It generates a photo-acoustic effect and reduces thermal interaction with surrounding tissue, especially in Pigmented Lesions Treatments.

Safe treatment with low risk of complications

It is a safe treatment for all skin types to reduce thermal interaction with the surrounding tissue. It distributes the laser power across pigmented lesions ensuring safety, comfort, and less downtime.
2020 NEW
StarWalker MaQX
StarWalker MaQX, Fotona is a upgraded technology that provides highest power and treatment capability in ASP technology for efficacy and safety of treatment. The laser penetrates deeply into the skin to offer efficient treatment without damaging the surrounding tissue, allowing for faster recovery. It can treat various skin indication including vascular, pigmented lesions, dark spots and tattoo removal. It has the power to remove all common pigmented lesions, birth mark, and tattoo removal.
Advantages
of Renewnem StarWalker MaQX
STAR WALKER MaQX SPEIAL POINT
The most advanced Q-switched laser on the market

StarWalker's technology thus combines the high energy capabilities of nanosecond lasers with the ultrashort pulse peak powers of traditional picosecond lasers.

Effective treatment with various wavelengths

StarWalker's wavelengths are located at appropriate skin absorption - peaks and minimums. There are four wavelengths that treat structures at different skin depths.

Premium Skin Toning

Compared to the existing toning laser that has a single mode, it can adjust the power and depth of the laser penetration depending on the types of pigmentation.

Safe Treatment

It can treat without giving any damage to surrounding tissue by an accurate irradiation of pigmented lesions.
RENEWME BEST
Enlighten Pico
Enlighten Pico laser is the first Dual wavelength laser with picosecond(750ps) and nanosecond(2ns). It respond better to traditional nanosecond domain lasers and possibly resistant tattoos might achieve better results with picoseocnds. It allows additional versatility beyond the range of spot size with dual wavelengths to have a dual pulse duration systems in a short time without damaging surrounding tissues. The laser allows the diverse range of colors and particle sizes that has countless formulations and sizes in many different color; black, grey, red, and even blue ink, and it can effectively be removed with less frequent with pico technology.
Advantages
of Renewme Enlighten Pico
ENLIGHTEN PICO SPEIAL POINT
Picosecond Pulse

It features both nanosecond (2 nanoseconds) and picosecond (750/660 picoseconds) pulse durations and an optimal combination of the parameters: wavelengths, spot sizes and energy levels.

Dual-wavelength

The Enlighten laser uses both a 532 nm and a 1064 nm wavelength, which makes it significantly more effective for pigmented lesions in the epidermis and in deep layer.

Reduced pain level

It minimized giving thermal energy to the surrounding area by picosecond speed and significantly reduced the pain level.

Safe treatment

It accurately irradiates the pigmented lesions without giving any damage to surrounding tissue.
RENEWME BEST
Excel V
The award winning excel V™ is the only tunable laser system on the market that combines two ultra-precise, best-in-class laser wavelengths (532/1064 nm) in one device. Delivering precision treatment parameters with unmatched versatility, excel V has the flexibility to treat any case, from superficial and deep vascular conditions to benign pigmented lesions.
Advantages
of Renewme Excel V
EXCELV LASER SPEIAL POINT
Reduced pain level

The CoolView integrated sapphire cooling optimizes patient comfort and safety and maintains the low temperature consistently,
resulting in less pain.

Reduced Side-effect

There is almost no side-effect such as hyperpigmentation or burn. It highly reduces hyperpigmentation or the burn that may occur in other laser treatments.

Quick treatment and
Clear-cut effect

With a short duration and immediate effect, you can wash your face and return to normal activity right after the treatment.
RENEWME BEST
HELIOS785 Pico Laser
The HELIOS IV 785™ is a Q-switched Nd:YAG laser that merges Pico and Nano technologies for the ultimate treatment experience to physicians as well as enhanced outcomes to their patients for indications including benign pigmented lesions, skin brightening, and toning. By incorporating the picosecond 785nm and complementing it with nanosecond 1064nm and 532nm technologies, the HELIOS IV 785 is designed essentially to further empower physicians the ability to customize treatments down to the last detail for safe, fast, and proven clinical outcomes.

Advantages
of Helios Laser
HELIOS LASER SPEIAL POINT
Selective removal of pigmented lesions

With high melanin absorption, it selectively removes pigmented lesions only without giving any damage to surrounding tissue

Effective treatment with various wavelengths

By incorporating the picosecond 785nm and complementing it with nanosecond 1064nm and 532nm technologies, it can treat various pigmented lesions effectively.

Irradiation of uniform energy​

It can irradiate uniform energy by DOE method

Verified safety

It is approved by FDA and CE so that it ensures a highly level of safety.
Treatment start from pigmented lesions
3D Facial Skin Analysis System
A degree of pigmentation, brownish pigments, Skin tone, pores, redness, fine lines, and acne, the skin analysis system enables to diagnose a degree of pigmentation, brownish pigment, skin tone, pores, redness, fine lines, and acne that cannot be
Four light sources to analyze different aspects of your skin
Extraction of brownish, reddish, dermal, and epidermal pigments
Analysis of 12 facial skin problems in four light sourses, UV light, Polarized light, Standard light and Specular light.
Compound diagnosis of skin disease and offer solutions of customized skin treatment for all individuals
Moisturizing! Elasticity! Brightening!
for dry and sensitive skin after laser treatment
Recommended treatments to combine with
Freckles/elasticity injection
Rejuran Healer
Fillorga
RENEWME CLINIC
WHY?
Renewme for the treatment
of freckles, blemishes, and brightening?
1:1 Personalized Treatment by richly experienced dermatologist
Renewme dermatologists proceed with 1:1 personalized treatment for freckles and brightening based on numerous experiences and expertise depending on individual skin type
Analysis and skin diagnosis by MARK-VU skin analyzer
Renewme Skin Clinic uses Mark-Vu, a 3-D skin analyzer in all branches, to analyze skin symptoms that are less visible to the naked eyes.
Various Treatment Programs for freckles, blemish, and brightening
Renewme Skin Clinic always offers the utmost effect
to satisfy our patients by combining treatments for freckles, blemish, and brightening.
Free
Consultation
1644-7508
Please feel free to ask questions about treatment anytime.
▣ Refund / Indemnify Policy ▣
If a patient have a side effect happened from medical malpractice,
the clinic will do refund and indemnify under Medical Act of Korea.