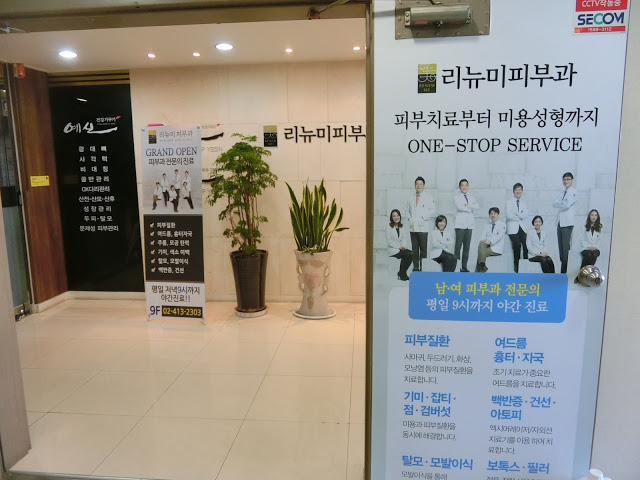 Hello guys :) This is my follow up post for my visit to Renewme Skin Clinic :)​
As mentioned in my previous post, I've done a total of 4 treatments :) And I'll be highlighting them for your info as we proceed!
When you first enter the clinic for your consultation, you'll be greeted by the friendly staff present! For my case, I was greeted by Saemmul who was my English coordinator that day! That's her in the photo below (sorry for the unflattering pic but you still look gorgeous there Saemmul hehe!)
After which, you'll be handed a brochure of the list of extensive procedures that's available in the clinic so that you can gain a wider knowledge of the procedures and the clinic details in specifics!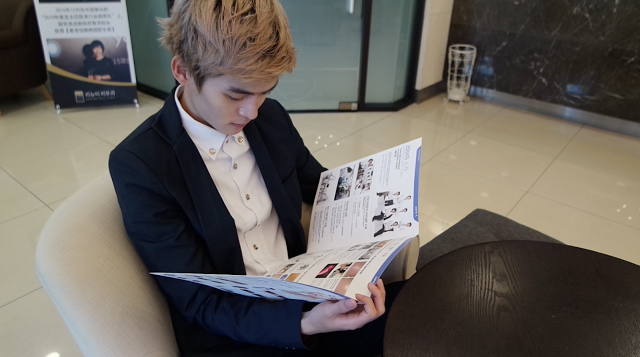 After filling in my personal particulars, I was directed to the consultation room where my doctor, Doctor Ha Ji Hyun (who's a specialist in dermatology and also one of the directors of Renewme Skin Clinic) assessed my current skin condition. 

After a thorough assessment my skin condition, Dr Ha Ji Hyun asked if I was applying any makeup as my skin looks really good *shy* hahaha! But other than that, we discussed my current skin concerns, which were mainly my present acne scars and post hyperpigmentation marks (those pinkish marks leftover by acne). 

From there, she suggested the following treatments.
1) Innofill 
2) PRP Dermashine + HA
3) Excel-v Laser
4) Fractional Laser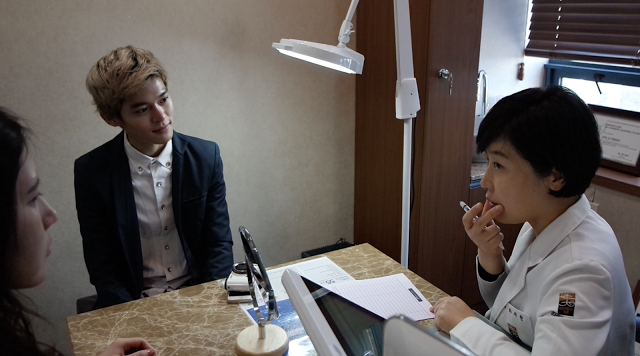 After the consultation with the doctor, you'll be guided to another consultation room where the friendly & kind consultants will brief you on the procedures which were recommended by the doctor. I find that this process is really good as they're ensuring that all your clients/patients are fully aware of the skin treatment procedures & their side effects etc.
In the past, I've been to several clinics which neglects it and I find that they shouldn't do it! I feel that it's truly important for the clinics to brief their patients on the procedures they'll be undergoing so that they know what they'll be undergoing and know what they're paying for. 
Once we're done with all the briefs and consultation, we're on to the next step for my procedures.
NUMBING CREAM! :)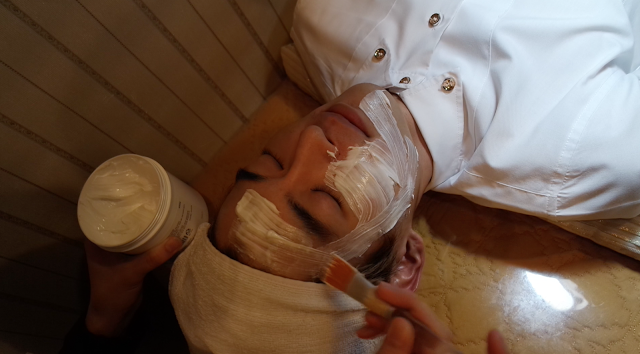 After setting the numbing cream for 40minutes or so, you'll be directed to the operating room where the doctors will proceed with the procedures discussed earlier :) This is my skin in it's raw glory, no edits or filters present!

Injecting of the anesthesia.... was really painful even with the numbing cream present! I had to clench my fist real hard and convince myself continuously that the pain was worth it in order to achieve flawless skin!
Pain factor: 7/10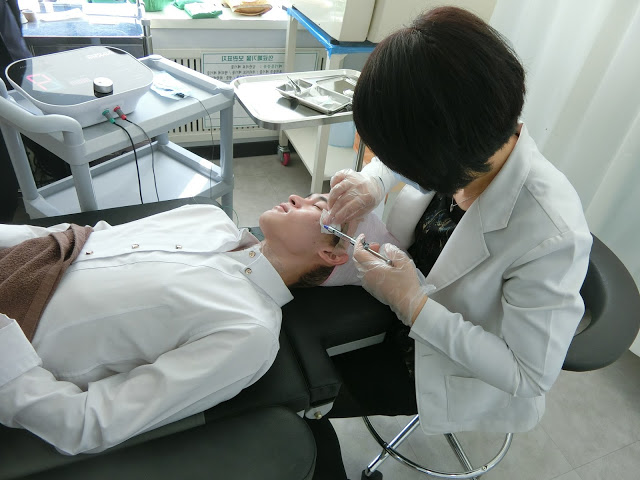 The first procedure: Innofill
Innofill is a procedure where radiofrequencies is emitted from a special patented needle and treats acne scars from under the skin. The needle cuts the tangled skin tissues that's holding down the skin, while the radiofrequency triggers collagen production to generate newer skin :)
Though there was a little tugging here and there throughout the procedure, there was 0 pain. Thank god for the anesthesia.
Pain factor 0/10
The second procedure which I did was the PRP DermaShine + HA
The PRP Dermashine + HA is a procedure which includes HYALURONIC ACID SOLUTION mixed together with PLATELET RICH PLASMA which is from your very own blood! It is then injected back onto your face to stimulate collagen production, vitalize skin cells, moisturize, improve skin elasticity, correct enlarged pores, dull skin and also rough skin texture!
To be honest, I was a little skeptical of the benefits of this procedure at the start. However, after doing some intensive research of my own, I found out that this procedure is one of the most popular treatments in the skincare industry and many kpop idols & hollywood celebrities swear by this treatment!
The injection begins! A quick warning though, after the procedure, you'll look like someone took a rolling pin and scrubbed it all over your face! My face probably had around 1000+ injection bumps visible after the treatment and it'll last for a few hours!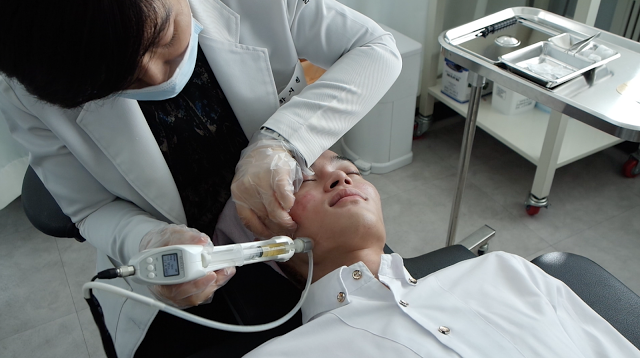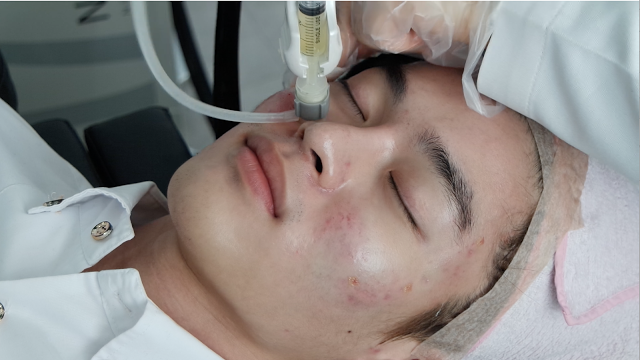 Pain Factor: 8/10. 
I cried. It's all worth it... for flawless skin :') 
After the first two procedures. I was directed to the soothing care room, where the nurse applied a soothing mask on me! She proceeded with the Cyrocell treatment and Light therapy to soothe my skin!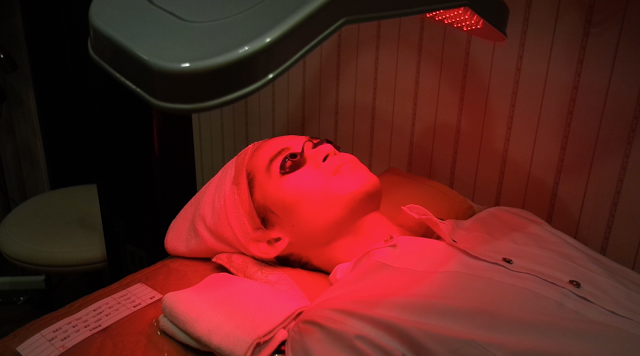 After taking a short nap, I was directed to the operating room again! This time round, I'll be doing the excel v laser and fractional laser!
Excel-v Laser is an award-winning laser system that operates in 3 different modes to treat a wider and complex range of skin condition. Which includes pigmentation, tightening + rejuvenation and lifting :)
As for the fractional laser, it is a procedure whereby the laser delivers wavelengths via tiny, divided laser beams to make microscopic holes in the skin. These holes helps to stimulate the skin's natural response to heal itself and product more collagen. Thus providing fast acne scar recovery! 
Pain Factor of both procudures: 2/10
Just a little tingly ants bite sensation!
And finally, I'm done with the treatment procedures :) I was directed back into the soothing care room where the nurse applied a soothing mask for me before I left! 
And that's about it!!
It's been roughly a week since I've done the 4 mentioned procedures and i'm currently seeing AMAZING RESULTS!!! Though there are still slight bruising from the innofill, My skin has never been so dewy, smooth and clear my entire life!! I'll be waiting for a few more days and snap more photos before I show you guys the final results :)
Once again, a big thank you to Saemmul who's my coordinator and Renewme Skin Clinic for the intensive and effective treatments ;)
For more information on Renewme Skin Clinic, check out their website at www.rnmeskin.net . You may also add Saemmul at Kakaotalk/Wechat - Renewmeskin !! She's my english consultant and also the person who has helped me a whole lot throughout my journey at Renewme Skin Clinic :) 
TYLER'S PACKAGE