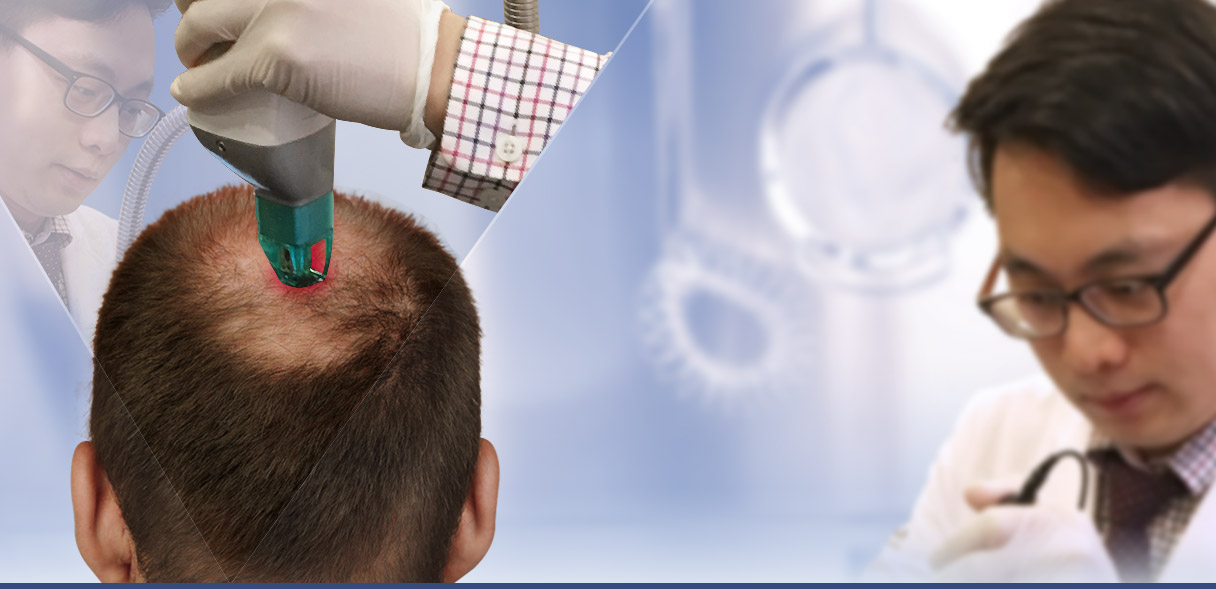 Simple scalp Injection,
No scalp care treatment!
Alopecia
Hair Loss
Scientific Hair Loss Treatment
Short Procedure Time!
More Effective Result!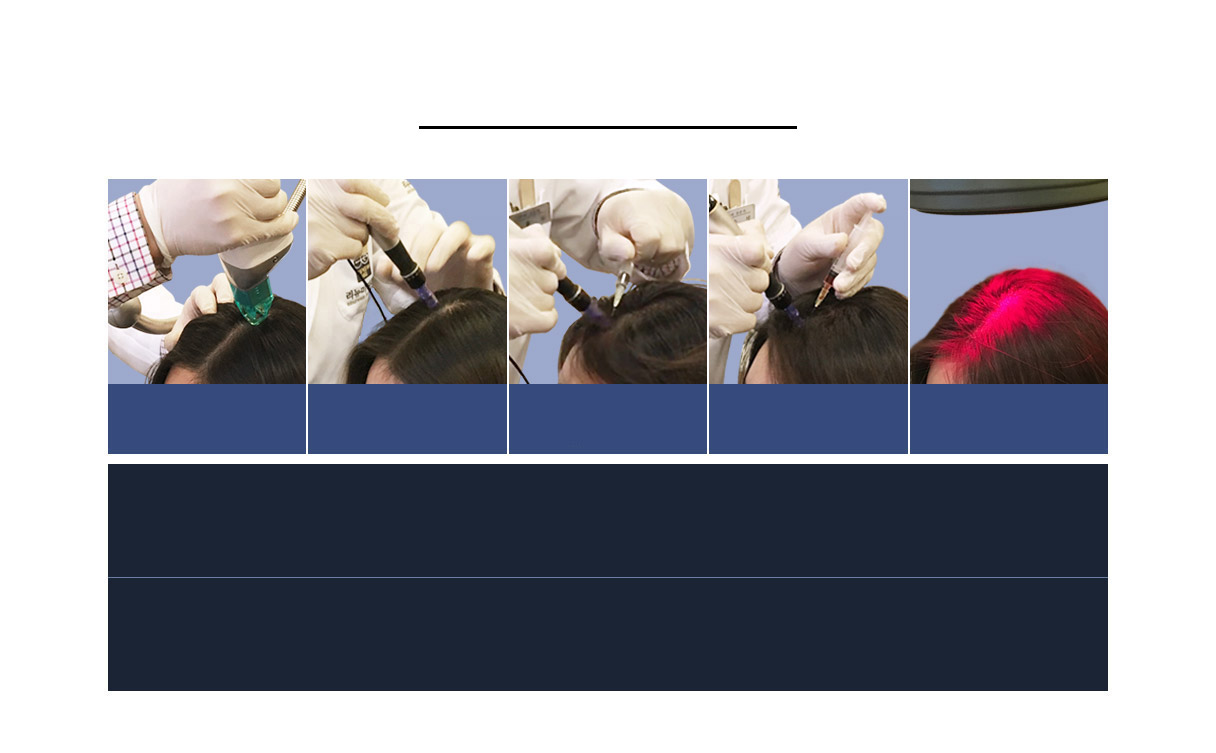 Hair Loss Laser
Fractional
Laser
Auto Needle
Hair Filler
Cytokines
PRP
APL
A course
Fractional Laser + Auto Needle + Cytokines + APL
1 session
550,000KRW
3 session
1,200,000KRW
B course
Fractional Laser + Auto Needle + PRP + APL
1 session
990,000KRW
3 session
2,200,000KRW

Hair Loss Program
One-on-One customized treatment plan by certified dermatologists
1
Fractional Laser
Fractional Laser is a treatment that

can induce Hair Growth Factors by control the hair cycle.
When Fractional laser is applied to the hair loss, the resting hair that has sopped growing is changed into the growing hair, and the growth of the hair is extended. It will increase a period of growth the hair itself.
2
Auto Needle
Auto Needle is a treatment that can penetrate nutrient components with the scalp condition properly, and it promotes a
regeneration of hair growth in damaged scalp.
Auto needle helps the scalp to stimulate fibroblast and to induce a fibrous protein production with adjusting length and speed of needle for appreciate patient's scalp.
Auto-needle can be treated more delicate
procedure than the existed needle
3
Growth Factor Medicine
Growth Factor Medicine is a treatment applied to Cell Hormone and Growth factor,

and it's selected Hair filler or Tyrosine Kinase by hair condition.

Tyrosine Kinase

Cytokines, a cell hormone is a growth factor that regulate cellular activities like cell proliferation, differentiation, and growth. Cytokine is a substance that are made from cells and it's safe because it applied to cells directly.

Cell growth & Proliferation
by Tyrosine Kinase

Growth factor attaches
to the receptor

Receptor for cell division

Tyrosine Kinase
starts signal

Signal for cell to divide

Nucleus

Cell growth
& proliferation

Receptors

Diagram showing how growth factors
signal to the cell to grow and divide
Copyright © CancerHelp UK
4
PRP
PRP (Platelet Rich Plasma) is plasma that contains condensed platelets which can act to vitalize stem ells. Blood is withdrawn from the patient, centrifuged then injected back into the progressed area from Hair loss. It shows
the effects of stimulating hair and cell regenerations.
Centrifugal separator to
separate platelet from Blood
Plasma
Platelet
Rich Plasma
(94%)
Blood Cells
(6%)
Condensed
Platelets
In the plasma
Condensed
Red blood cells
In the plasma
PRP Effects
Recover
wound
Interact
with
Fibrous protein
Promote
Tissue
regeneration
Activate
cells from
stem cells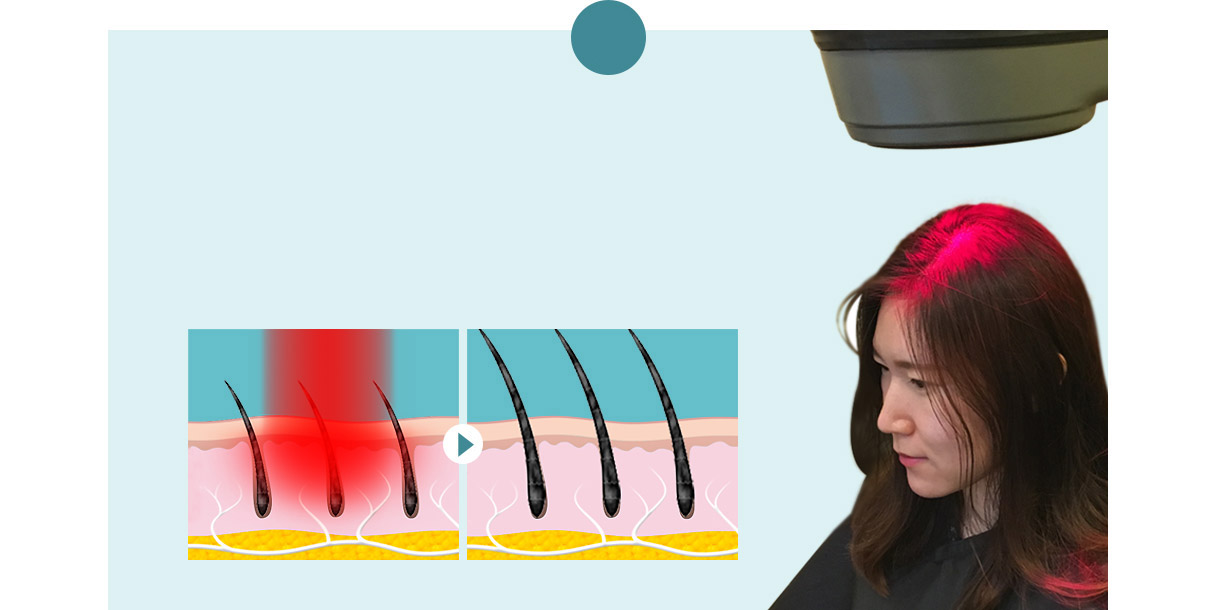 5
APL
APL is a Low-Level Laser treatment that can
stimulate metabolism of skin tissues.
Photo Light Laser Therapy helps light ray penetrate into the follicle for stimulating fibrous protein, and it increase hair regrowth through follicle strengthen.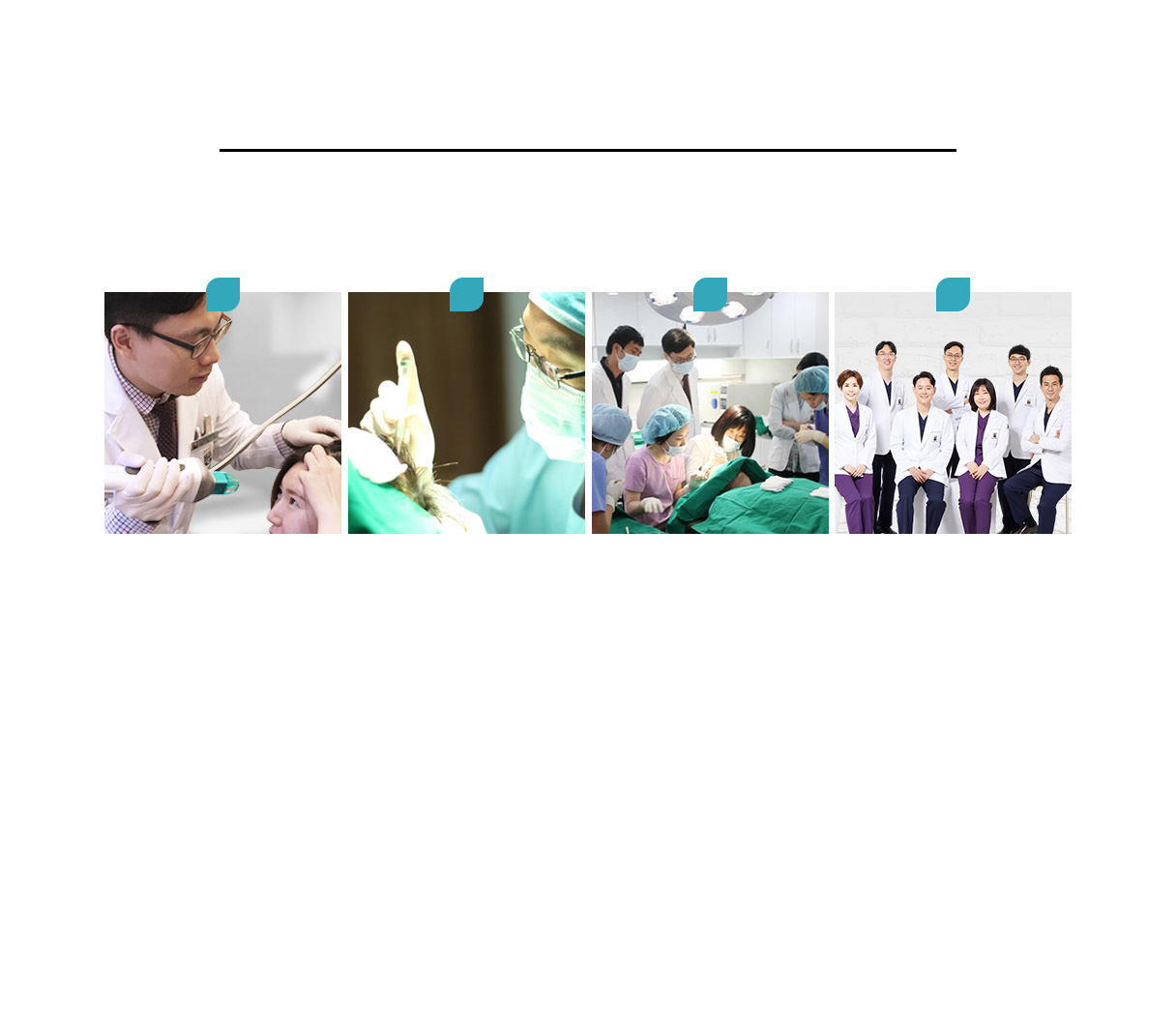 Hair Loss and Scalp Treatment
One-on-One consulting and treatment by Certified dermatologists
1
The scientific
treatment from
certified
dermatologists
Renewme Hair loss treatment is treated directly by a dermatologist. Scientific treatments using lasers and special medicines will give you a better result.
2
From scalp
treatment to
Hair Transplant
Dermatologists have treatments like hair loss, scalp care and hair & eyebrow transplant, hair line and at Renewme Skin Clinic.
3
Research of
Hair loss
treatment
Renewme Dermatologist have plenty of know-how for Hair loss, scalp treatment, and Hair transplant from years of clinic experience. They share techniques or know-how and keep researching to improve the quality of treatment through regular medical seminars.
4
Selection of
male/ female
doctors
Patients can select the gender of their dermatologist in any Renewme Skin Clinic branch.
Free
Consultation
1644-7508
Please feel free to ask questions about treatment anytime.
▣ Refund / Indemnify Policy ▣
If a patient have a side effect happened from medical malpractice,
the clinic will do refund and indemnify under Medical Act of Korea.