Read original blog post here.
Being away for a month long (from Singapore), it's inevitable to have some ​clogged pores​ and uneven skin-tone. Also the ​cold weather​ here has left my skin a tad dry, hence the need to seek professional help for a quick fix. 
With so many clinics all around Seoul, it really is a tough decision to pick one. I finally decided to check out ​RENEWME SKIN CLINIC​ because my Korean girlfriend highly recommended it. Judging by the way her skin looks, I'm pretty convinced this clinic would do wonders for my face too! I've always wanted to try out this ​PRP DERMASHINE​ which is also known as the ​VAMPIRE FACIAL​. Don't worry you'd get to see a gory image of me afterwards. Unfortunately, it's not available in Singapore but rising fast in popularity all over Korea and the States. Since I'm here, why not give this a shot right?
Liaising with RENEWME SKIN CLINIC was a breeze. Even though it's highly popular with the locals, their consultants are able to converse in excellent English/Mandarin. Here's a big shout-out to ​SAEMMUL​ (their English consultant) for being so patient with my 101 questions & taking great care of me during my stay! Anyhow, I was able to make an appointment with the clinic on short notice. Definitely very impressed with their level of efficiency.
​//VIP PICK-UP SERVICE//​
Recently, RENEWME SKIN CLINIC started this VIP pickup service. They're able to pick you up from your hotel & send you to the clinic. Lucky me! Not being able to converse in Korea makes it really difficult, this service saves me from the hassle of explaining to the taxi driver my destination. Plus, it really does make you feel like royalty.
Upon arrival at the clinic, I was greeted by friendly nurses who made me feel right at home. The clinic is furnished very simple yet elegant looking - just the way I like it.

Can't resist a ​mirror selfie​ before seeing the doctor!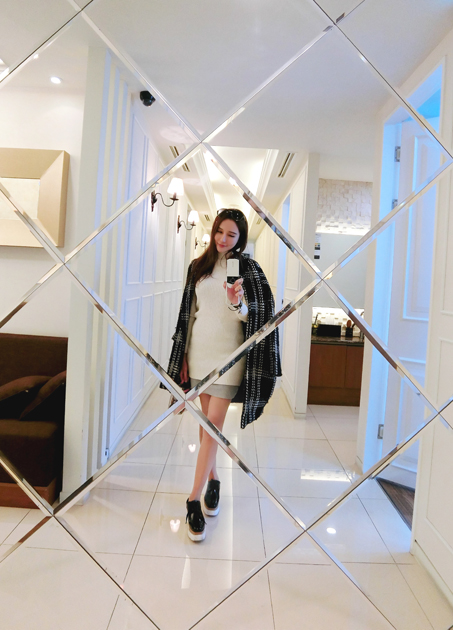 ​//CONSULTATION//​ 
I had really wanted to get fat graft done for the second time, but unfortunately I'm an unsuitable candidate for this time round. I'm definitely gonna start eating more so that I'd gain enough thigh fats! After assessing my skin condition, the doctor said the ​PRP DERMASHINE​ would be beneficial for me! ​DR. HA JI HYUN​ also recommended that I do ​SHURINK ULTRAFORMER III ​for ​FACE LIFTING/TIGHTENING​ & ​EXCEL V LASER​ to eradicate ​PIGMENTATION​. Yes I know it's a sad truth, but as we age, our skin loses its elasticity & it might cause our cheeks to sag. I don't know about you, but for me, I'm all for getting it fixed at its early stage.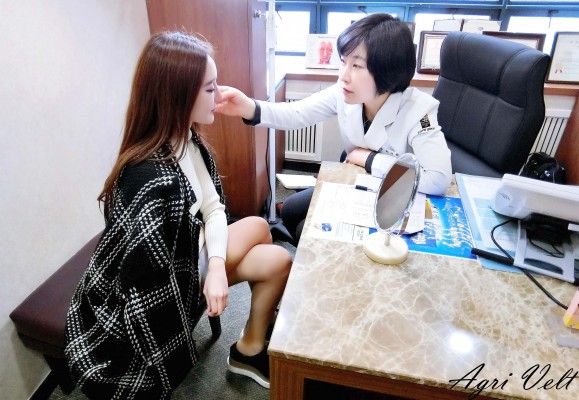 Time to remove all my makeup & get ready for numbing cream! Pretty excited to not have to go under the knife and exit the clinic with a youthful look!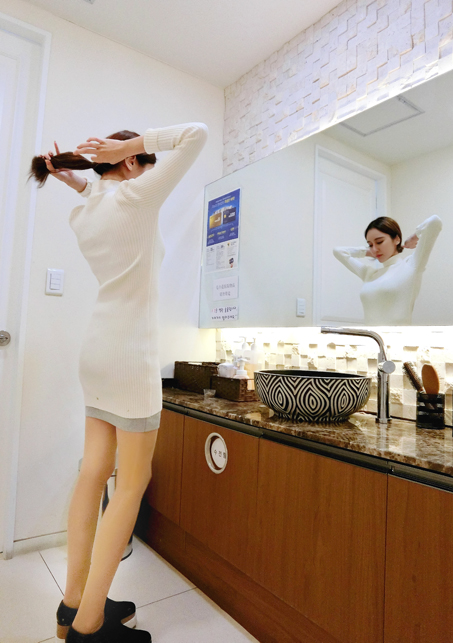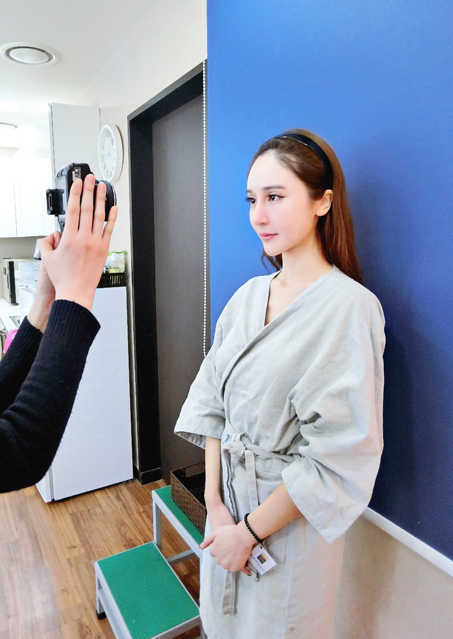 ​//NUMBING TIME// 
​I would be lying if I said it's completely painless. Thank goodness I had their powerful numbing cream on for one hour. Men have no idea what we go through for beauty's sake! Oh well, no pain no gain right?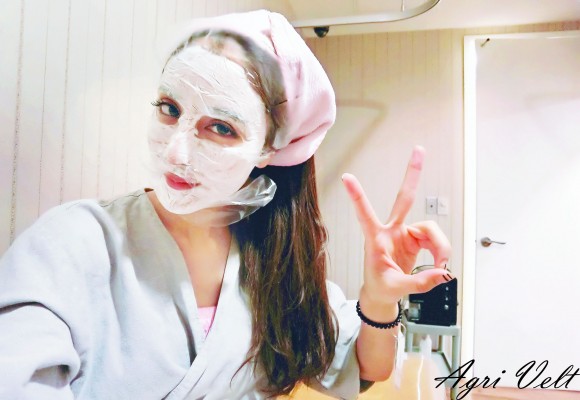 The ​EXCEL V LASER​ was completely painless, but I forgot to get a picture taken since this light treatment was overly bright! It was definitely the most comfortable amongst the three!
​//SHURINK ULTRAFORMER III// 
SHURINK​ is the latest upgraded ​HIFU TREATMENT​ suitable for patients who looking to get ​non-surgical lifting​ done and desire an ​overall skin improvement​. I'd rate the pain factor as ​2/10​. You'd feel some sensation on certain areas, just like tiny ant bites. As for me, it was mainly the jaw area that felt a bit sore during the process but the soreness goes away quickly too. I would say it's a similar feeling to getting ​jaw Meditoxin done
​//PRP DERMASHINE// 
​In summary, ​PRP DERMASHINE​ is ​hyaluronic acid​ solution mixed together with ​platelet rich plasma​ from your own blood. It's then injected back to your face to ​stimulate collagen production and correct your skin flaws​ (enlarged pores/dull skin/rough skin texture). 
Pain factor wise, this was a ​5/10​ but still bearable. I felt more pain towards the cheeks area maybe because my skin is slightly thinner than most people. Just don't think about the pain, think about how your skin will look all dewy afterwards!
Alright, so here is how my skin looks up-close. I know this sight is extremely terrifying (all that raised bumps from the intensive injections), but of course this is just temporary. But I did however notice my skin looks more ​plumped and lifted​ immediately! Wow!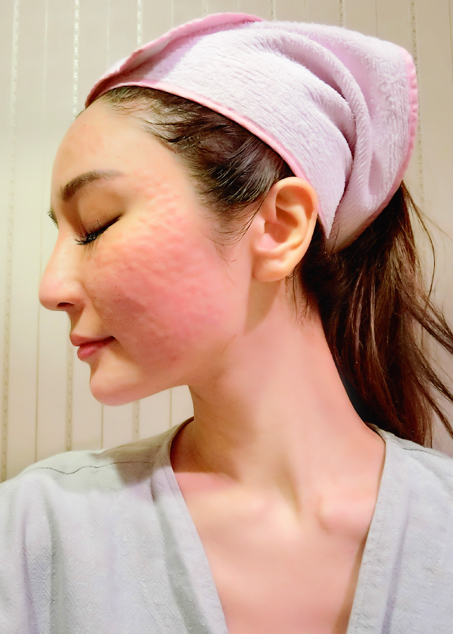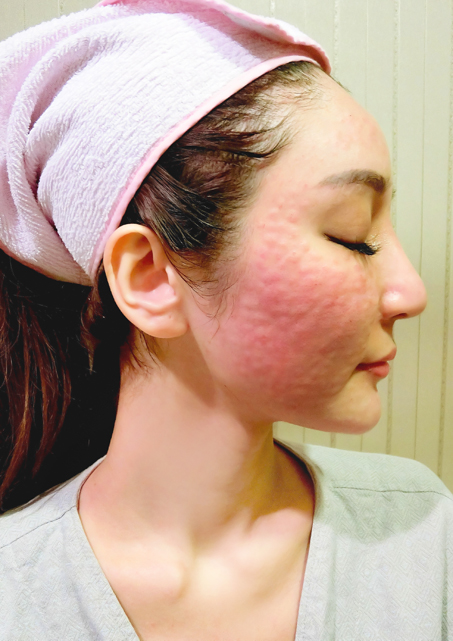 ​//SOOTHING CARE TIME// 
​The nurse did a ​soothing mask, light therapy, & CRYOCELL treatment​ to soothe my skin. Definitely not feeling sore anymore at this point! Also, it really depends on the individual, some people take a slightly longer time to recover. Mine lasted around 3 hours, that's why I was hibernating in the clinic! 
Thank you ​RENEWME SKIN CLINIC​ for giving me an after-care kit. I was told to mask religiously for 5 days, afterwards to aid the healing process. For best results, avoid alcohol consumption for a week & apply sunblock. Okay I sort of cheated and drank on the third day (don't kill me), I was pretty paranoid but thank goodness skin was still looking good!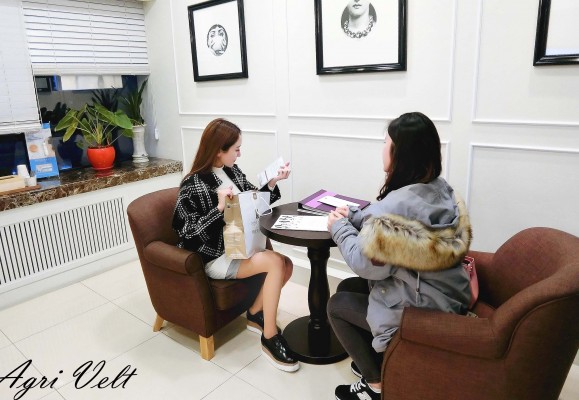 Four days after, this is how my skin looks (take with my iPhone 6). Oh my goodness, never thought I'd be able to wake up to skin looking like that? Even my loved ones are pretty surprised by the results. It's still me but I look and feel younger & definitely more refreshed! In fact, the doctor did mention, your skin will keep looking better day by day after doing the ​PRP DERMASHINE & SHURINK.​ Now I know why Kim Kardashian swears by this! I'm definitely more confident to head out without makeup these days! But if you really must put on make up, you'd notice it glides on like a dream.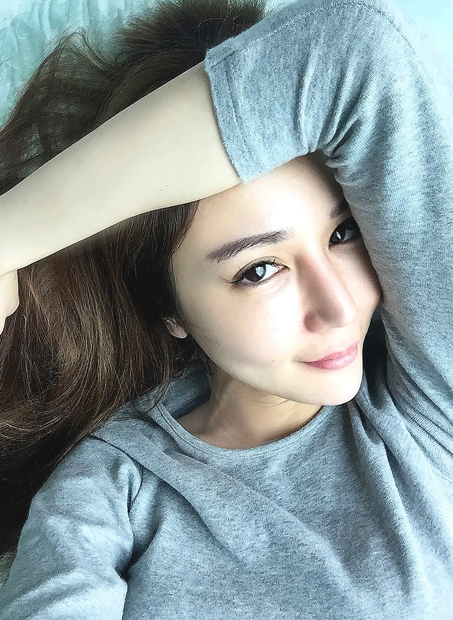 Thank you so much ​RENEWME SKIN CLINIC​! I can't wait to be back!
AGRI'S PACKAGE: