Sunny is a Vietnam youtuber that is currently a student in Korea. On her YouTube, we can see regularly up-date videos about the life and learning in Korea. She also shares her experience for young people who are interested in beauty from Korea. She wants to share beauty treatment in Renewme Skin Clinic. Let us check about her stories! 
 //Consultation//​
Sunny had a consultation with Dr. ha Ji Hyun from Jamsil branch. Sunny has a dry skin on nose and the front of her cheeks with blackhead. Dr. ha checked sunny's skin and recommended Aqua peel, PRP hydro lifting and EXCEL V laser to improve dryness and also some pigmented areas. Get ready for treatment at Renewme! 
​ //Aqua peel // 
Aqua peel is a skin care and quick and effective on all skin types. It has 3 stages that melts the sebum to induce a gradual and natural exfoliation, finishing by distributing vitamins all the face. The result is making a clean and hydrated skin tone. It is like soft peeling and takes about 30minutes as basic skin care.
//Excel V//​  
The ExcelV laser is a laser treatment with two different wavelengths as a solid-state laser system at 532 nm and 1064 nm. It is not only used to improve vascular condition pigmentation such as acne marks, and dark circles caused by the expansion of superficial capillaries and deep veins. It can also treat deep pigmentation in the underlying skin, such as freckles, age spots.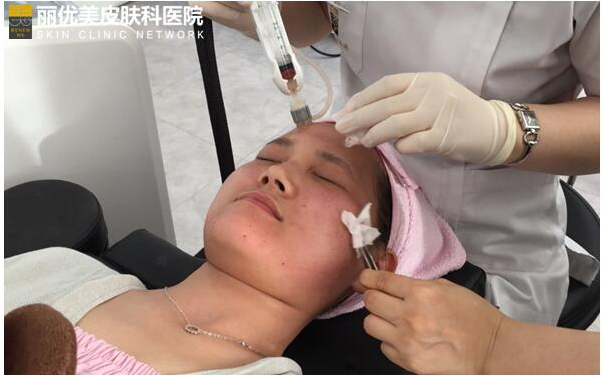 //DNA dermal rejuvenation//​
DNA Dermal rejuvenation is an effective treatment for depressed scars like acne marks or surgical scars. For acne scar, DNA helps the skin to pull out with carbon dioxide air porket and injects DNA solution with H.A that helps the skin to repair in the deep skin layer. DNA protects the scars to enhances the results with stimulating self collagen through subcutaneous high-frequency needle (INNO PLUS). DNA and INNO PLUS helps to cut off the hard fibrous tissues. Then it helps the new skin tissues grwo and fill up into the scar for regenerating.   
  //Soothing treatment// 
After finishing the whole treatment, the face is quite swollen and brusing. But don't worry about it. Swelling will subside in a few days and bruising will subside in a week. After treatment, it may cause temporary redness and swelling of the skin. It can calm the skin with aloe gel, regenerating Light therapy (LED) and helps to cooling down with vitamin C to regenerate collagen from downtime like redness and swelling.

If you want to have an appointment for consultation, please contact us via messenger or email below. 
Line: skin0075
Kakao Talk: renewmeskin
WeChat: rnmeskin
WhatsApp: +82-10-9204-0075
Email: renewmeview@gmail.com