The power influence from Vietnam is Trang Ngo. She has name of Changmakeup on Instagram. She is a huge lover for lipsticks a​nd makeup and have beauty tips. She is famous for sharing all beauty on Instagram and you tube. She has millions of subscriptions on YouTube channel. She speaks English fluent and has Vietnam channel as well. Her most fans come from all over the world.  Finally!!! She visited renewme skin clinic. We will show you how her procedure from renewme skin clinic.  
In the interview, Chang mentioned that she began to appear acne and it leaves large and small acne marks on her face. Her skin began to get worse and worse when she touched makeup so, she worried about her skin condition and decided to visit skin clinic from Korea. We met her at Jamsil branch nearby gangnam. First, she came to the clinic and fill out personal information with English translator. Renewme has translators who speak Chinese, English, and Vietnam. It helps to have consultation with interpreters with comfortable to any customer all over the world. So everyone feel free to contact us with free on-line consultation.

 //Consultation//​ 

Chang had a consultation with Dr. ha Ji Hyun. About her skin condition, the doctor recommended treatment plan for DNA dermal regeneration to treat depressed acne mark and scar and also PRP hydro lifting to improve skin texture with moisturizing. Also, she recommended EXCEL V laser and pico Enlighten laser to improve pigmentation and skin dark pigment.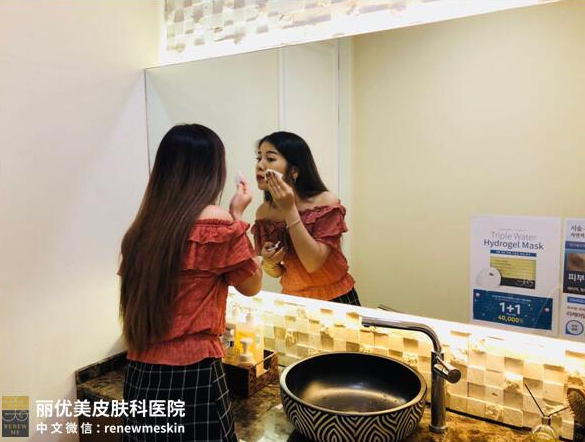 ​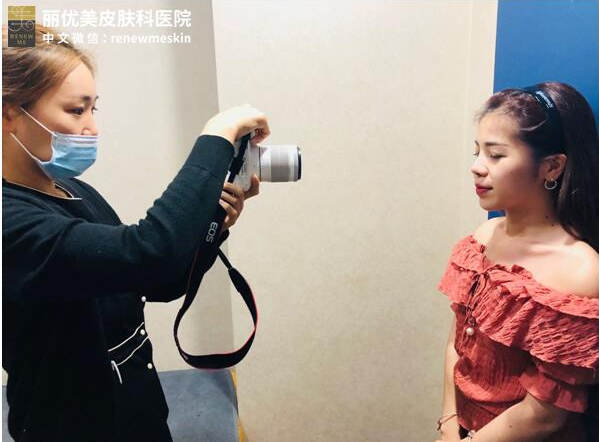 //Preparing for treatments//​
After removing makeup and cleansing, she had a photo shoot for recording before and after photos. We keep the records for her and will compare the photos after checking up as re-visitor. After taking photos, Chang had the numbing cream and waited for 30 minutes.  
//PRP hydrolifting//​ 
For PRP hydrolifting, we extracted patient's own blood for Patelet-rich-plasma which is injected skin to promote blood circulation and cell regeneration. So PRP extracted from blood helps rejuvenate and brighten skin.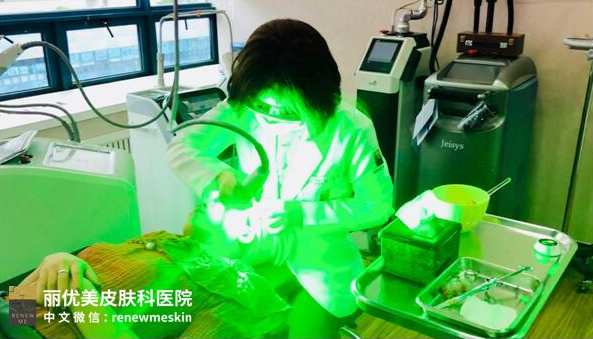 //Excel V//​  
The ExcelV laser is a laser treatment with two different wavelengths as a solid-state laser system at 532 nm and 1064 nm. It is not only used to improve vascular condition pigmentation such as acne marks, and dark circles caused by the expansion of superficial capillaries and deep veins. It can also treat deep pigmentation in the underlying skin, such as freckles, age spots.  
//DNA dermal rejuvenation//​
DNA Dermal rejuvenation is an effective treatment for depressed scars like acne marks or surgical scars. For acne scar, DNA helps the skin to pull out with carbon dioxide air porket and injects DNA solution with H.A that helps the skin to repair in the deep skin layer. DNA protects the scars to enhances the results with stimulating self collagen through subcutaneous high-frequency needle (INNO PLUS). DNA and INNO PLUS helps to cut off the hard fibrous tissues. Then it hleps the new skin tissues grwo and fill up into the scar for regenerating.  
//PICO Enlighten laser//​ 
The picosecond laser is a laser treatment with a pulse duration of 2 nanoseconds and a shorter 750/660 picoseconds, so it is called a picosecond laser. Powerful pulses can accurately and quickly break down melanocytes and pigments. And the picosecond laser adds a cooling system to effectively protect the skin's surface and avoid the formation of scars.The powerful heat energy can effectively activate the cells to tighten the skin and achieve the elastic effect of improving large pores and acne.  
//Soothing treatment// 
After skin  treatment, it may cause temporary redness and swelling of the skin. It can calm the skin with aloe gel, regenerating Light therapy (LED) and helps to cooling down with vitamin C to regenerate collagen from downtime like redness and swelling.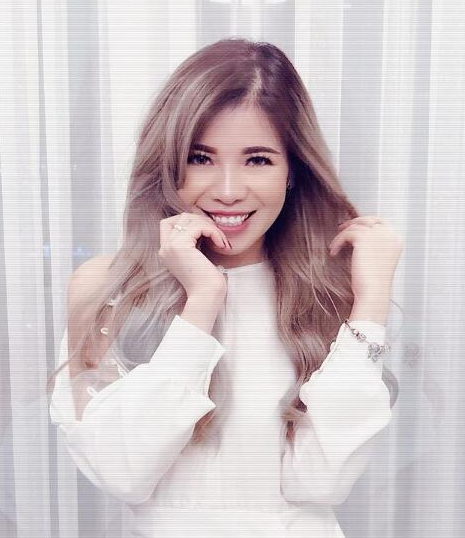 If you are interested in treatments CHANG MAKE UP had, Feel free to contact us via messenger or email below.  
Line: skin0075
Kakao Talk: renewmeskin
WeChat: rnmeskin
WhatsApp: +82-10-9204-0075
Email: renewmeview@gmail.com