Agnes is a power blogger in Singapore and 2017 Mrs. Singapore. She has posts Beauty , style and travel on her instagram and blog. she is fashionable and pretty. Finally, she visited RENEWME SKIN CLINIC and had a consultation and treatment with Dr. Ha Ji Hyun at Jamsil branch. Let's talk about her stories!

//CONSULTATION// 
She wanted to have fat graft this time, but she didn't have any fat on her face. After the DR. HA JI HYUN checked her skin condition, she recommended that she does SHURINK for face lifting and anti aging and VOLUME THREADS for lifting and tightening. Also, she recommended ENLGIHTEN LASER for pores and scars. As her ages, she is concerned more about losing her skin elasticity and a little bit sagging on her cheeks. She could fix and keep having lifting treatment to regenerate collagen on her skin.
​
 //PREPARING TREATMENTS//  
Before her treatments, she needed to prepare treatment. She washed her face and she had photos for Before & After. Then she had powerful numbing cream on for one hour. Patients think they are more sensitive and apply more numbing if they want. It helps to relieve pain from treatment and concentrated on getting results, not on enduring pain. Excellent skin numbing results are obtained 30 minutes to 1hour to penetrated the skin.
//SHURINK HIFU LASER//  
​SHURINK is is the latest upgrade in HIFU technology, and can treat a wide range in anti-aging including non-invasive face lifting, and tightening, and facial contouring. Compared to conventional HIFU, Shurink is faster less painful and more effecient. Plus, the procedure has NO downtime, and won't affect your everyday routine!
We recommend those who have sagging skin that has lack of skin elasticity for anti-aging with no downtime. Some people wants to have longer lasting, we recommend ULTHERA as well. As you have longer numbing, you can feel a little pain towards the cheek bones area. Just don't think about the pain, think about how your skin will look after lifting up afterwards!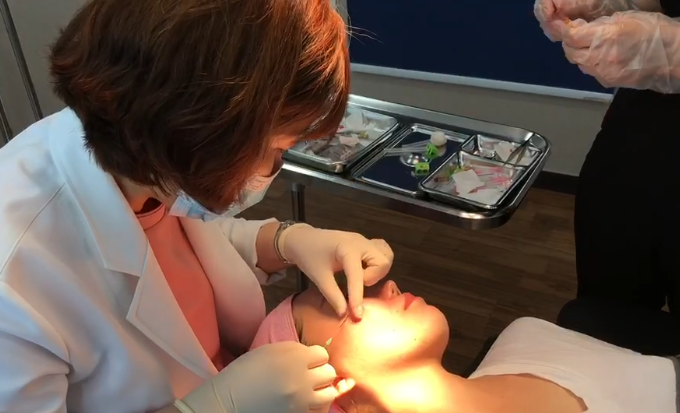 //VOLUME THREADS//  
VOLUME THREADS helps sagging skin with inserting a spring-shaped melting thread, and filling with volume on sunken area. It makes the skin more elasticity with the spring's resiliency force. Even through the thread melted away, those effects will last for a long because of regenerating skin inside of the spring to fill the space in the face.​
Dr. Ha Ji Hyun designed her face for her concern area and injected local anesthesia for painless. That part was more pain, but it will be okay after few minutes from pain. Renewme Skin Clinic is qualified dermatologists with extensive knowledge and years of experience. We are safe and certified procedures. 
//PICO LASER//  
PICO LASER uses pico second irradiation beem to rejuvenate skin and tighten pores and even scars too. Pico laser​ combines pico and nano second laser for hyper pigment, pores, and even scar as well. Treatment takes about between 15 and 20 minutes and much quicker and effective. People may requires a number of weekly sessions. The doctor and consultant will advise you on how man times you need to return to get the best result.  
Before the treatment, the nurse helped her to apply facial mask for laser treatment. She could feel sting a little bit but takes not too long. It will improve sin texture as well. 
//SOOTHING TREATMENT//  
​The nurse did a ​soothing mask, light therapy​ to soothe my skin. The light therapy helps regenerating your skin, skin elasticity and cooling down the face from soothing facial mask. After treatment, she had redness and swelling as normal post procedure. Soothing treatment will help you so don't worry J 
Thank you for AGNES for visiting our clinic.  She also sent us after photos after 2 days afterwards to aid the healing process. For best result, apply moisturizing and sun block. Also, she needed to put the tape on her face for 1 days, and she could make up after treatment and wash her face with putting the tape on her face. 
When she visited Renewme skin clinic, she brought her crown from Mrs. Singapore and took a picture at Renewme! She was so pretty and gorgeous.
 And she  ​Two days after, she looks more pretty and has more V shape on her face. Her skin will keep looking better day by day after doing the SHURINK , VOLUME THREADS, and PICO LASER. She loves V line with smooth her skin. 
9 days after,  Agnes updated post- thread lift after her treatments. She kept having skin care at home with moisturizing and sun block everyday then She updated after 9 days photo shoots. We can see more her v line face with smooth her skin!  We will looking forward to seeing her stories and after photos soon! Thank you Agnes!    
AGNES'S PACKAGE: