Agri velt visited renewme skin clinic again. She did PRP, EXCELV treatment before in our clinic. She was satisfied with her result, so she visited again this year from Singapore. This time, she has skin concern for moisturizing and lifting & tightening.
Check out her stories below! 
Agri has a consultation with Dr. Ha Ji Hyun she had last time. She is concerned more about losing her skin elasticity and a little bit sagging on cheeks. She also concerned about moisturizing. She did PRP hydro lifting last time, but the doctor checked her skin and recommended SHURINK, DERMOTOXIN treatment. She could fix and keep having lifting treatment to regenerate collagen on her skin from SHURINK as well.  
​SHURINK is is the latest upgrade in HIFU technology, and can treat a wide range in anti-aging including non-invasive face lifting, and tightening, and facial contouring. Compared to conventional HIFU, Shurink is faster less painful and more efficient. Plus, the procedure has NO downtime, and won't affect your everyday routine! 
We recommend those who have sagging skin that has lack of skin elasticity for anti-aging with no downtime. In her case, Agri had SHURINK last time for lifting & tightening. Shurink has lasting about 8month to 1 years. So, it's better to keep having a treatment continuously. So, if you want to have more longer lasting treatment, we recommend ULTHERA with lasting almost 1 or 2 years. Comparing to SHURINK, Ulthrea is more painful with no downtime. The best way is that you need to have a consultation which lifting laser is more suitable for you.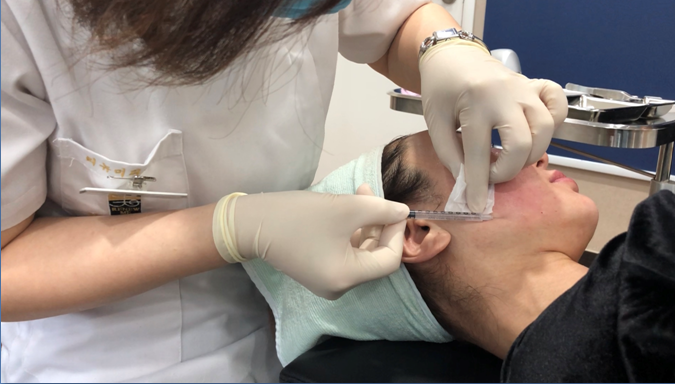 DERMOTOXIN is a skin Botox that easier way to improve pore and elasticity.
It is a diluted solution of Botox that is injected evenly across the face into the skin's superficial layers. When a diluted Botox solution is injected into the outer layers of the skin, you can see instant tightening effects and evened skin tone. It helps for wrinkle improvement, reduces pores too.  When paired with PRP dermashine, you will notice tremendously improved skin with just one session.
Agri felt that it's less painful than PRP dermashine. If you have enough numbing cream, people can just feel sting on their skin. Don't afraid of pain! It's bearable from Dermotoxin.    
​The nurse did a ​Renewme mask, light therapy​ to soothe my skin. The light therapy helps regenerating your skin, skin elasticity and cooling down the face from soothing facial mask. After treatment, she had redness and swelling as normal post procedure. Soothing treatment will help you so don't worry