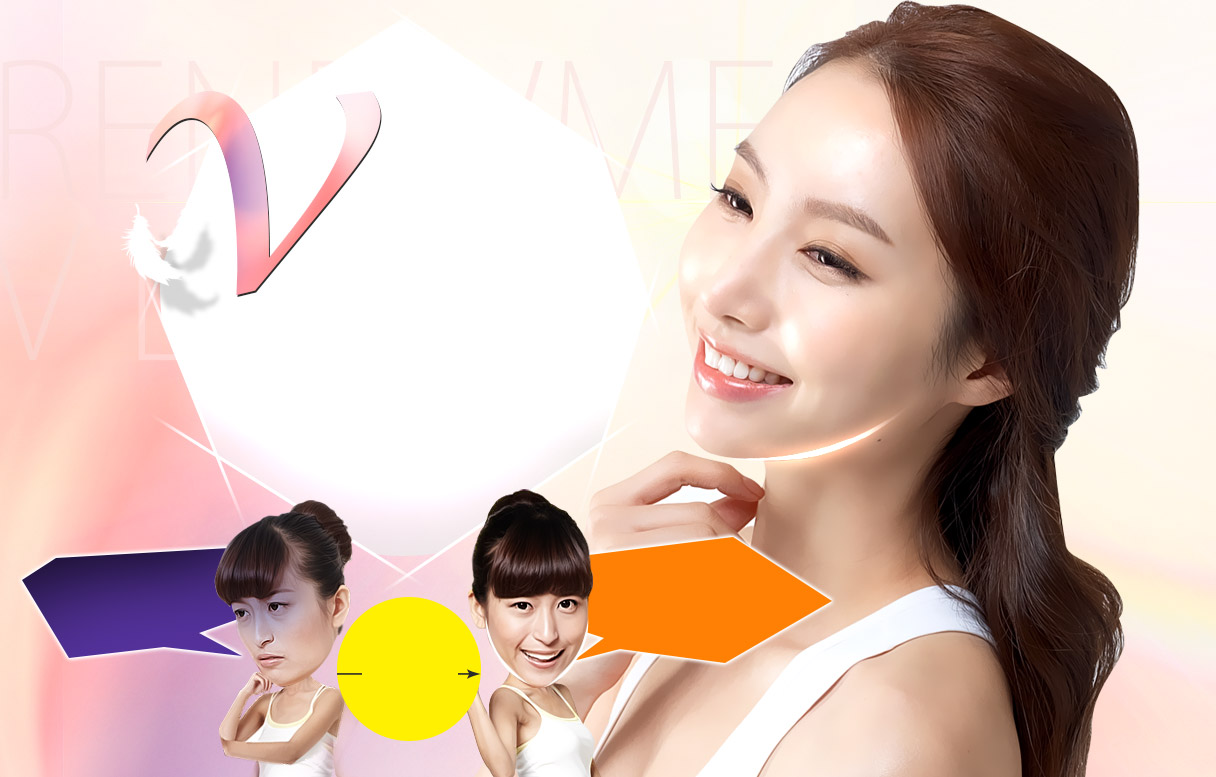 Only One
Month Event!
V
-LINE
Shurink Contouring Injection
Jaw Meditoxin
Non-Invasive
for a V-line facial shape!
I am worried about
uneven, lumpy with
no elasticity
Shurink +
Contouring
Injection
Get Shurink
+ Injection for Slimmer
& smaller Face effect!
V-LINE EVENT PRICE
Dissolved Fat of Contouring Injection
& Elasticity and Lifting of Shurink
& Shrink Muscle on Jaw of Meditoxin Together!
Double Effects of Contouring
m
o
r
e
!
Shurink 200 shots Contouring Injection
Jaw Meditoxin
1,400,000 KRW
990,000
KRW
Shurink
More detail
GO
From Uneven facial line to Slimmer & Smaller face!
Renewme's V-line is
A procedure that reduces the fat of the double chin
or cheeks and gives the elasticity to make the facial line.
Shurink- Natural V-line Facial Lifting
SHURINK
SHURINK (Ultraformer 3) uses
non-invasive ultrasound technology
to naturally regenerate collagen and
tighten aging skin.
1.Lasting results with one
session
2.Reached deep into the
SMAS layer
3.High-intensity ultrasound
V-line Injection - Dissolved Fat Contouring Injection
Contouring Injection
Contouring Injection is a non-
invasive procedure that make
contouring and slim down facial
line from Uneven, lumpy on your
face with no elasticity.
1.Double Chins
2.Excess fat with no elasticity
3.Fear of cosmetic surgeries
Jaw Meditoxin - Relieved Jaw muscle
Jaw Meditoxin
Overderveloped masseter can make
your jaw look wide and Meditoxin
helps the jaw shrink and it leads to
have facial contouring effects.
1.Quick and simple treatment
2.Only 5 minutes procedure
3.Fear of cosmetic surgeries
Before & After
- DISCLAIMER -
Before and after photo(s)on the website represent outcomes of individual patients.
As each patient is different, the results may vary by individual.
Content is for informational purposes only and is not to be considered medical advice.
▣ Refund / Indemnify Policy ▣
If a patient have a side effect happened from medical malpractice,
the clinic will do refund and indemnify under Medical Act of Korea.