Permanent Medical Makeup
Register : 2017-05-10 01:55:26 pm
Permanent Makeup Eyebrow
One of our patients is worried about her eyebrow because she doesn't have any eyebrow right now. It was hard to makeup for her eyebrow everyday. Her friends recommend our clinic to visit and have a permanent make up for her eyebrow. After having a treatment, she is really satisfied with her result on your treatment. We also check her changes after treatment. She got the beauty eyebrow and confidence J Here is the procedure for permanent makeup. Check it out!​
She puts the numbing cream on the target area for painless.
She feels like she is really nervous of the treatment. But, we apply the cream, so no worries!
​
​
The doctor design how make the natural shape. We consider about patient's
facial shape, balance and skin tone for proper permanent make up.
​
The doctor did dedicate techniques for designing the eyebrow and filling the lack of eyebrow area
along the eyebrow texture as a natural and three dimensional eyebrow.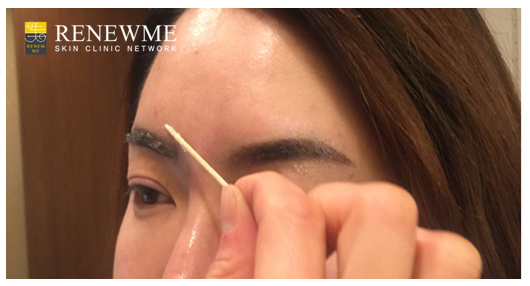 After the techniques, we put the protection cream to keep the pigment of the targeted area
and it helps to protect the treated area as well. ​
After treatment, she did for LED light for soothing for sensitive skin and make collage
regenerate the skin for after care. She is so satisfied her results for permanent Medical makeup.
The cream is repair cream that helps more activate collagen to heal more quickly.
It makes the targeted area to make calm down.
It's better to have permanent eyebrow and eyeliner for them. So, Renewme has a painless permanent make up from the collaboration of Medical staff and beauty liner. You can't image that most women already have a permanent makeup for them. If you don't have it, don't waste your time for makeup and save it. Don't miss the chance at Renewme!
Phone: +82-2-588-7525
Email:
renewmeview@gmail.com
Line:
skin0075
Kakao Talk:
renewmeskin
WeChat:
rnmeskin

WhatsApp: +82-10-9204-0075​